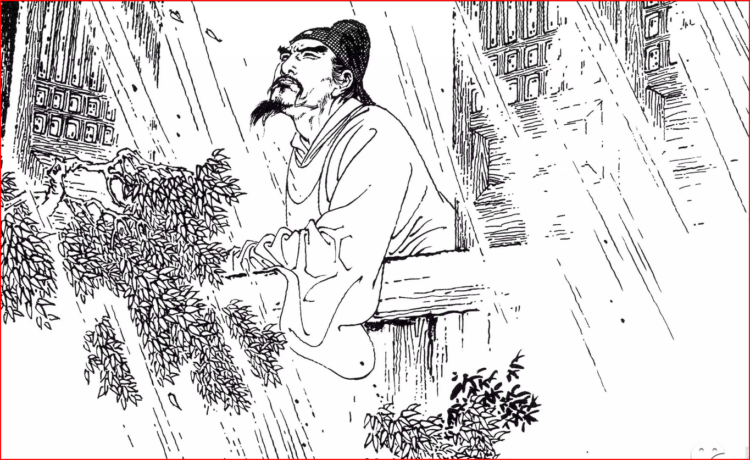 辛弃疾 《永遇乐·京口北固亭怀古》
  千古江山,
  英雄无觅,
  孙仲谋处。
  舞榭歌台,
  风流总被,
  雨打风吹去。
  斜阳草树,
  寻常巷陌,
  人道寄奴曾住。
  想当年,
  金戈铁马,
  气吞万里如虎。
  元嘉草草,
  封狼居胥,
  赢得仓皇北顾。
  四十三年,
  望中犹记,
  烽火扬州路。
  可堪回首,
  佛狸祠下,
  一片神鸦社鼓。
  凭谁问:
  廉颇老矣,
  尚能饭否?
  Joy of Eternal Union
  Xin Qiji
  The land is boundless as of yore,
  But nowhere can be found
  A hero like the king defending southern shore.
  The singing hall, the dancing ground,
  All gallant deeds now sent away
  By driving wind and blinding rain!
  The slanting sun sheds its departing ray
  O'er tree-shaded and grassy lane
  Where lived the Cowherd King retaking the lost land.
  In bygone years,
  Leading armed cavaliers,
  With golden spear in hand,
  Tigerlike, he had slain
  The foe on the thousand-mile Central Plain.
  His son launched in haste a northern campaign;
  Defeated at Mount Wolf, he shed his tears in vain.
  I still remember three and forty years ago
  The thriving town destroyed in flames by the foe.
  How can I bear
  To see the chief aggressor's shrine
  Worshipped 'mid crows and drumbeats as divine?
  Who would still care
  If an old general
  Is strong enough to take back the lost capital?
  Where is the Central Plain?